National Athletes To Participate In 2nd Edition Of Warri/Effurun Peace Marathon– Bozimo
By Francis Sadhere, Warri
The Coordinator of Warri/Effurun Peace Marathon race,  Alaere (Mrs) Joyce  Bozimo has said that National Athletes will participate actively in the  second of edition of the Warri/Effurun Peace Marathon race .
Alaere Bozimo who spoke to our correspondent in an interview  in Warri, Delta State, said the purpose of the Peace Marathon race was to create peace awareness for residents of  Warri, Effurun and environs, adding that the race will promote togetherness as different people from different ethnic nationalities  will come together as one.
She said; "I looked at it and I said to myself that sports has no colour, tribe, nationality, everybody come  together as one. If you look at a football match, every team work together as a team to win a game. So I said Marathon sounds right so if we say it is  a Marathon and we are thinking Warri and Effurun, everybody will come together and there will be no Ijaw, Itsekiri, Isoko, Urhobo or Hausa because by then we are all one".
"If we have one unique opportunity to come together we will start talking together as friends. As we try talking to each other, we are the youths and at the end of the day peace will follow. That is what motivated me to start the Warri Peace Marathon in 2016″.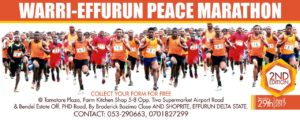 Alaere Bozimo, a lawyer by training said she had a passion for fitness, encouraging all Nigerians to be fit and  participate in the Marathon race which comes up ones April 29, 2017, But she warned that the race is meant for only those who are healthy, advising those who have health challenges to come out and cheer the athletes who will be in the race.
"We have started the jingles on air, people are collecting forms and we have made it known that if you are not fit you should not run a marathon because in a marathon you have to be very fit. Even though you cannot run we want people to stand on the road to cheer the athletes. It is not meant for only the youths, everybody should come out to cheer them up. All of us should come out because Warri is our place. So we must all contribute to the peace in this our great city",  she said.
She solicited for the support of well meaning Nigerians  to volunteer themselves and support her organize the marathon race, noting that preparing a race of such magnitude involves a lot of funds that only one individual cannot provide.
According to her; "We also need sponsors. People should come out to sponsor it because it is not a profit making venture. If you look at Lagos Marathon, the state government is involved. Look at the Okpekpe race in Benin, the state government is involved. The difference here is that this Marathon is in Warri and not in  Asaba. But we want big companies and individuals to support the Warri/Effurun Peace Marathon Race. That day everybody will come out walking. That day as you are walking, you meet people and from there you start talking to people. Let us make Warri the dream we want. Let us make Warri a better place."
"The primary aim of the Marathon race is to bring youths and leaders together. It is not a political party thing. It is just to bring all people together from within and outside Nigeria. When these people come, the hotels will be booked and this is going to be a source of revenue to hoteliers and the government. It is like tourism because everybody will be looking out for it every year. Some people have been calling me from abroad asking me if we are going to do another marathon race again and I have made them to understand that we are set for its second edition".
"The second edition is going to start April  29, 2017. The Delta State  Government has reached out to us for support. We  appreciate the gesture of the Government, considering the fact that the Government is facing a recession. We have started preparations since last year. This time around we have to look inward so we visited the Chairmen of the local government around us. We have We have visited the Chairmen of Warri South, Uvwie  and Warri South  and they are excited and they want to support us and they are very helpful", the  Coordinator of the Peace Marathon Race said.
Describing the success of the first edition of Warri/Effurun Peace Marathon race, Bozimo said, "It was a huge  success by AFN (Athletic Federation of Nigeria) standards because when I started,  I applied to them and they gave me the go ahead. When I started I did not really know what was involved. There are a lot of things involved in organizing a marathon race. But one by one we went from one traditional ruler to another. We visited the Olu of Warri, Orodje of Okpe, Ovie of Uvwie, and all the traditional rulers in this area.  We told them that the marathon race was all about peace and asked them to support us and they were really happy about it.
"I cannot do something in Warri without informing the state government and when we wrote the governor he graciously accepted and they gave us the go ahead. But there were so many things involved in a marathon race. We have to bring the professional and the technical team from Lagos to bring the timer. The officials who came, we have to pay their hotel bills. The athletes we have to pay the prize money – which was the easiest part.
"The preparation is the hardest part. Getting ambulances, doctors and the rest was very difficult. We spent our personal resources to fund the competition. Government gave us the needed support . But at the end of the day it was a success. There were no accidents and no incidents. It started well and ended well. Though at the end we were left with some debst but because it was a starting point we were not bothered because the Warri I know, when people come together it is going to be  fantastic."