Former CBN Director, Lawson Egware For Burial Feb. 2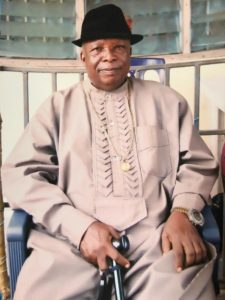 The death has been announced of Mr. Lawson Emonido Egware, a renowned Economist, Banker and retired Director at the Central Bank of Nigeria, CBN.
The late Egware who died on December 1st, 2017 at the age of 75 years was born on March 4, 1942. He attended Saint Michael's Primary School, Emevor from 1951-1957 and James Welch Grammar School Emevor from 1958 to 1962. He had his Higher School Certificate, HSC at Saint Augustine's College Nkwere, Imo State from 1963-1964, before proceeding to study Economics at the Premier University, University of Ibadan between 1965 to 1968.
In his quest for more knowledge, he bagged a Master Degree in International Relations from the University of Bradford, West Yorkshire, England in 1982.
According to the burial programme released by the family, there will be a service of songs in his honour on Thursday February 1, 2018 at No 36 Uruenyo Street (Idhoko Egware Compound) Emevor at 5pm.
On Friday February 2, 2018 funeral service at St. Michael's Anglican Church, Emevor at 10am. Internment and entertainment of guests at No 36 Uruenyo Street (Idhoko Egware Compound) Emevor at 12pm.
The late Egware was an Economist of great repute, he started working as a Graduate Teacher at Holy Trinity Grammar School, Sabon Gida Ora, Edo State, from July 1968 to December 1968. He joined the Midwestern State Civil Service as a Produce Officer in the Ministry of Trade and Industry from April 1969 to September 1969.
In October 1969, he joined the services of the Central Bank of Nigeria as a Research Assistant where he had a blistering and impressive career as Head, Petroluem Studies Division, Assistant Director, Research Department, and retired in 1999 as Director, International Economics Relations Department.
He was a disciplinarian, a man of peace and gentle disposition, a care giver and a philanthropist, even in retirement he was still caring for people.
Until his death, he was a patron of the Isoko Development Union and Emevor Progress Union in Lagos and Abuja.
May his gentle and kind soul rest in peace. Amen!!!