Delta communities shut down Warri PHCN office in protest over 3 years blackout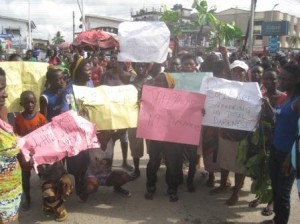 By Frank Efe
HUNDREDS of women from three communities in Uvwie Local Government Area of Delta State, today, shut down activities of the Power Holding Company of Nigeria, PHCN, Effurun Business District Office, over three years power blackout.
The protesting women numbering over 500 from Udumorogbo, Ishakpa and Orhomaro communities danced to the Effurun PHCN office armed with different placards and leaves to register their grievances.
According to our correspondent, the action of the women forced the office to shut its gates to prevent the protesting women from causing havoc.
Some of the placards read thus; "No light, no life". "We need new transformer"; "People are suffering in total darkness"; "Let there be light, PHCN why darkness"?
One of the communities representative who gave his name as Mr. Henry Ileleji told our correspondent that the communities had been in darkness for the past three years, with no hope that there will light at the end of the tunnel soon.
Mr. Ileleji also said that they had made several complaints to the PHCN office without any result, adding that they had to mobilize the women out to seek audience with the management.
He said; "The problem, we have is that we have been suffering over blackout for the past three years. There have never been regular light. All we are saying is that we need stable light and we will be okay."
"Last year, after suffering for light for over two years, PHCN came to our area and repaired our old transformer. But since December, 2012 we have been in darkness because the transformer is bad again. But up till this moment none of their officials have come to our area to know what the problem is," he reiterated.
Another protester, Mrs. Helen Ejiro, who spoke to our Correspondent said; "PHCN said we are not paying light bills. But how can we be paying light bills when we are not seeing the light? They (PHCN) have since abandoned us and they have not been coming to our community again. They have abandoned us in darkness. They have taken our transformer away and they have not bothered to come and give us a new one.