Archives for November 24th, 2014
FELIX JEREMIAH Besides  oil related activities in the oil rich Niger Delta region hich it's inhabitants have continued to express worries that it has degraded the environment and it's People in no small manner, another area of concern has been the prevalence of drugs of various dimensions. The use of narcotic drugs and it's negative effects on ...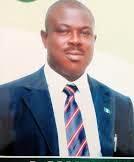 By Christopher Odamah/Florence Arue Evura THE Peoples Democratic Party (PDP) aspirant for Patani Constituency in the Delta State House of Assembly, Mr. Lawrence Ebikefe Akpeti has promised to give his people effective representation if elected. Mr. Lawrence Ebikefe Akpeti The House of Assembly aspirant who spoke to newsmen at the weekend in Patani, headquarters of Patani Local ...