WARRI "THE EYE SORE OF AN OIL CITY"
By Richard Odibo
For the avoidance of doubt, to those that are not familiar with the City named WARRI, I will like to describe Warri as a City in Delta State of Nigeria. It ones served as the Colonial Capital of the then Warri Province. However, today Warri is described as an Oil Hub in the Southern Senatorial District of Delta State. Warri used to be a small powerful Commercial Centre with surrounding towns like Effurun, Ekpan, Ubeji, Edjeba, Ogunu, Aladja, Enerhen, Ugbuwangwe to mention but a few. Though all these towns mentioned above and others are now referred to as Warri for ease of reference, but they still maintain their Political autonomies.
Having lived in and out of this place where I was born and loved so much, I am constrained to take a Critical look at this supposedly blessed Land named Warri. I have watched this City as it was full of so much life, with a lot of activities and also witnessed helplessly the decay that has avoidably set in.
The Oil Cities of the World I know, some of which I have been privileged to visit, are places like Texas in the United States of America, Cairo, Kuala Lumpur, Mumbai, Rio de Janeiro, Perth,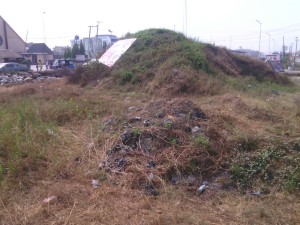 Jakarta, Singapore, Denber, Dubai, Calgary etc. etc. The level of development, the network of roads, and the states of the arts infrastructure in these Cities are better imagined.
The Warri some of us used to know as I earlier mentioned was a bubbling Commercial City where all the Riverine Communities from, Ijaw, Itsekiri, Ilaje and others from Isoko, Ibo, Hausa and Urhobo used to converge. There was a waterway linking Effurun, running through Agaga layout behind Enerhen Junction down to Deco road, Lower Erejuwa road, through Macro road and Warri prisons into Warri River.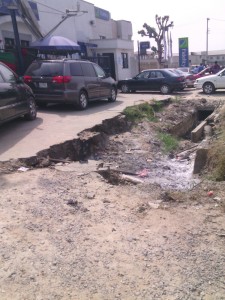 If the above mentioned waterway was well channeled and maintained, it would have been one great source of transportation that traders and others would have used to Ferry their goods and wares from the hinter-land down to Warri metropolis. In some other Cities of the World, such routes are usually a beauty to behold. The Thames River in London and the artificial river channels in Dubai are typical examples of such routes that were developed to an attractive level and tourists hotspots.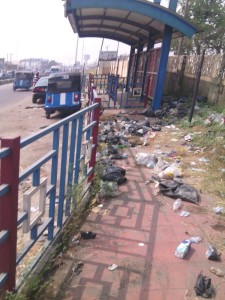 There was a road behind the Main Market then known as Hausa road, from the Market road end down to Hausa road  there were structures that provided accommodation for people, besides ware houses like the UAC ware house, Hotels, stores like the Odibo trading stores, Kay Challarams, etcetera, etcetera. All these were bubbling with different Commercial activities to the delight of all. The Boats and Canoes owned by persons from the Riverine Communities berthed along the river bank. The Stores on this stretch displayed goods like Provisions, and hard ware's like Roofing Sheets, Nails, Bucket, Umbrellas, Shoes, Doors, and Iron – rods for Construction etc. A Stranger may want to know what then happened to all of these.
Unfortunately, the people didn't help themselves. They were their own enemies. The Itsekiri / Ijaw Politics over the ownership of Warri led to the dismantling of all the structures along the Hausa road end. The place eventually became a Sand Beach and a home for lunatics and hoodlums.
This piece is not intended to look into the bitter and unnecessary rivalry between the different ethnic nationalities in Warri, instead its intention is to focus on the rot and decay in the infrastructure and the total collapse of what was in place then and the absence of a good developmental plan for a place that should be regarded as one of the best cities in today Nigeria. If Warri could not measure height with Lagos in terms of infrastructure, one expects that at least Warri should be better than Calabar and Uyo as an Oil City.
The night life in Warri was exceptional. Notable night clubs were in place then to keep the activities of the night alive. We had the likes of Lido night club, Zeina night club, Pemy night club, De Rabbit, Joint One and several others. Even Cinema houses like Delta and New Rex cinema houses were there.  Today night Life is dead as a result of the general feeling of insecurity in the Warri metropolis.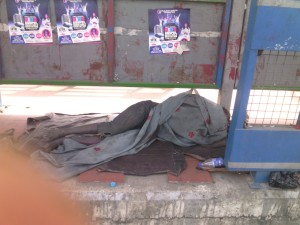 The Old generation of those born in Warri known as Waffarians tried in vain to uplift Warri, while a section of the new generation took it to another level especially with the efforts of our Comedians.  Unfortunately some of these young ones made themselves available to be used by the greedy leaders to cause hate and mayhem. They shed so much blood that was not necessary. The needless struggles between the different ethnic nationalities could have been avoided.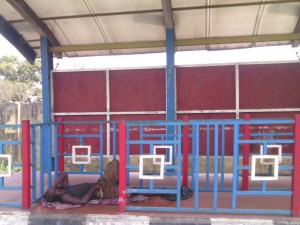 But things were not always the way they are today. One can recall  with nostalgia when as an Urhobo man I could visit  the Ikomis,  Rewane's, Begho's, Ezeli's, Ngonadi's and eat freely without looking behind my shoulders or harbour any fears  of being hurt. We knew ourselves and we exchanged visits on such a note of conviviality. There were names like, the Yudowei's, Brisibe's, Sokoh's, Edewor's , Esiso's, Ezieno's, Ukueku's  Peregba's,  Emiko's, Ogbe's, Porbeni's, Jemide's, Oganwu's, and many others. One man's problem then was the others' and we shared our joys and sorrows. We knew ourselves, as wide and big as the cities were under the Old Midwestern region. The inhabitants knew themselves. From Warri to Sapele, Benin City to Ughelli, Agbor to Asaba and other numerous towns; we transverse the nook and crannies of these towns and felt at home wherever we found ourselves. What then happened to the old friendship that pervaded the air, the love we exuded amongst ourselves?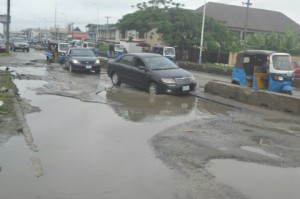 At the advent of the 4th republic,because so many men and women of substance refused to be involved in the transition program since there was lack of trust for the military by the citizenry, the caliber of leaders that emerged, with due respect to few, could best be described as opportunistic. They got into power, tasted it, enjoyed and seized it. So many strangers came into the political landscape, they were welcomed with the hope that things were going to be as usual. We were one big family, united in diversity, with a concerted effort to develop this blessed town.  But the opposite became the case. Greed set in, selfishness, hatred and killings. Nobody cared about Warri anymore. People were now more interested in their own pockets and their villages. Warri was now a no man's land.
No wonder that in a revealing article titled ''A Postcard From Warri'' published in the Nigerian Guardian of October 27, 2000, ace Journalist and former Presidential spokesman, Dr Reuben Abati, depicted the sorry state of Warri as follows: ''Warri is a haggard old lady, with tired feet and a mouth that has been robbed of its teeth. She looks as used as an over-experienced prostitute. The neighborhoods were crowded. The whole scene seems indescribable: humanity trapped in small spaces with threats of poverty and discontent written on their faces and over the environment''. That was the testimony of a visitor to Warri, who captured his experience as decay took over Warri in 2000.
Even our Warri Carnival, which the Alders League used to organise in Abraka, was affected. The State Government informed whoever cared to listen, that they have plans to develop Warri. They commenced with the Dualization of some of our roads, and eventually abandoned them for reasons best known to them. The Shell Petroleum Development Company (SPDC), Chevron, and other Oil and Gas Companies came up with a few developmental projects in and around Warri. For example, the Osubi Airport Project, School Building,Health facilities, Town Halls and many more sprang up in some strategic places due to the efforts of these multi-nationals.
But again our greed showed up, Government couldn't reach a compromise with SPDC. We continuously disagreed on principles and modalities on how to handle various issues. Consequently, there was a breakdown of law and order. As a business concern Shell Petroleum development coy couldn't continue to operate in a hostile environment. Government couldn't help. The Dutch Oil majors had to move officially from Warri – Delta State to Port Harcourt – Rivers State. That singular act signaled the comatose situation in Warri and environs. All other allied companies moved along with SPDC.
The huge amount of money the State used to generate from SPDC in form of IGR (Internally Generated Revenue) shrunk drastically. Those in Government I had earlier described to have "seized government" cared less. Majority of the citizens suffered. The absence of a good plan if at all there was any, led to taking of unproductive decisions. Warri of course suffered for it.
The Delta State Oil Producing Areas Development Commission(DESOPADEC) that is charged with the sole responsibility of developing the Oil Producing Areas unfortunately became political. If you are not a PDP card-carrying member, no matter your ideas or professionalism, you cannot be patronized. So those with very good developmental proposals would rather sit at home and watch helplessly as the state took a nose dive for the worse.
The goose that lays the golden eggs was consequently abandoned. Pictures don't tell lies. Going through some photographs of specific places in Warri will give a graphic perspective of what Warri is today, even worse than what Reuben Abati saw in 2000. The Government claimed to have spent billions of Naira on Warri and its environs. The previous regimes, however made some appreciable efforts tried in the development of Warri. Some Institutions were put in place with the sole aim of moving Warri forward. Instances include, the Federal Government College, Warri which was established in 1966; the Warri Refinery and Petrochemicals, 1978 and the Nigeria Gas Company established in 1980. Evidence of their impacts abound.
We recall how Brigadier General Samuel .O. Ogbemudia built a very solid road, the Warri / Sapele road, that served Warri for a very long time until we recently used our own hands to create very comfortable homes for lunatics right at the centre of the roads in the name of some incorrigible ideas driven by the greed to steal from the public till. For over a year now we have been compelled to accept and ply this deplorable state of the popular Warri/Sapele road. The loss of man hour caused by the regular traffic jams on this bad state of the road runs into billions of naira if we have to quantify it in terms of naira and kobo.
I will not end this piece therefore without proffering solutions to some of the problems that bedevil the Warri of our dream today.  Government should as a matter of urgency set up a body responsible for the drawing up of a comprehensive development plan for Warri and its environs. The Focus should be on Warri Urban; Utilisation of the Warri Waterways/Channels; Railway line to link up everywhere; Beautification project; Creating a peaceful environment that will attract Investors; Abolishing youth activities and redirecting the attention of the youths towards self help projects. Wafarians are gifted, "Warri nor dey carry last" was the slogan we used to revel in. But today, the reality is that 'we nor dey anywhere'. Warri is one big shame, an eye sore of an oil city. The task of rebuilding Warri is however a task for everyone.
SIR RICHARD ODIBO, a private entrepreneur and public affairs analyst wrote from Warri, Delta State.