Delta LG election: Okowa, Uduaghan, other PDP members drum support for Tidi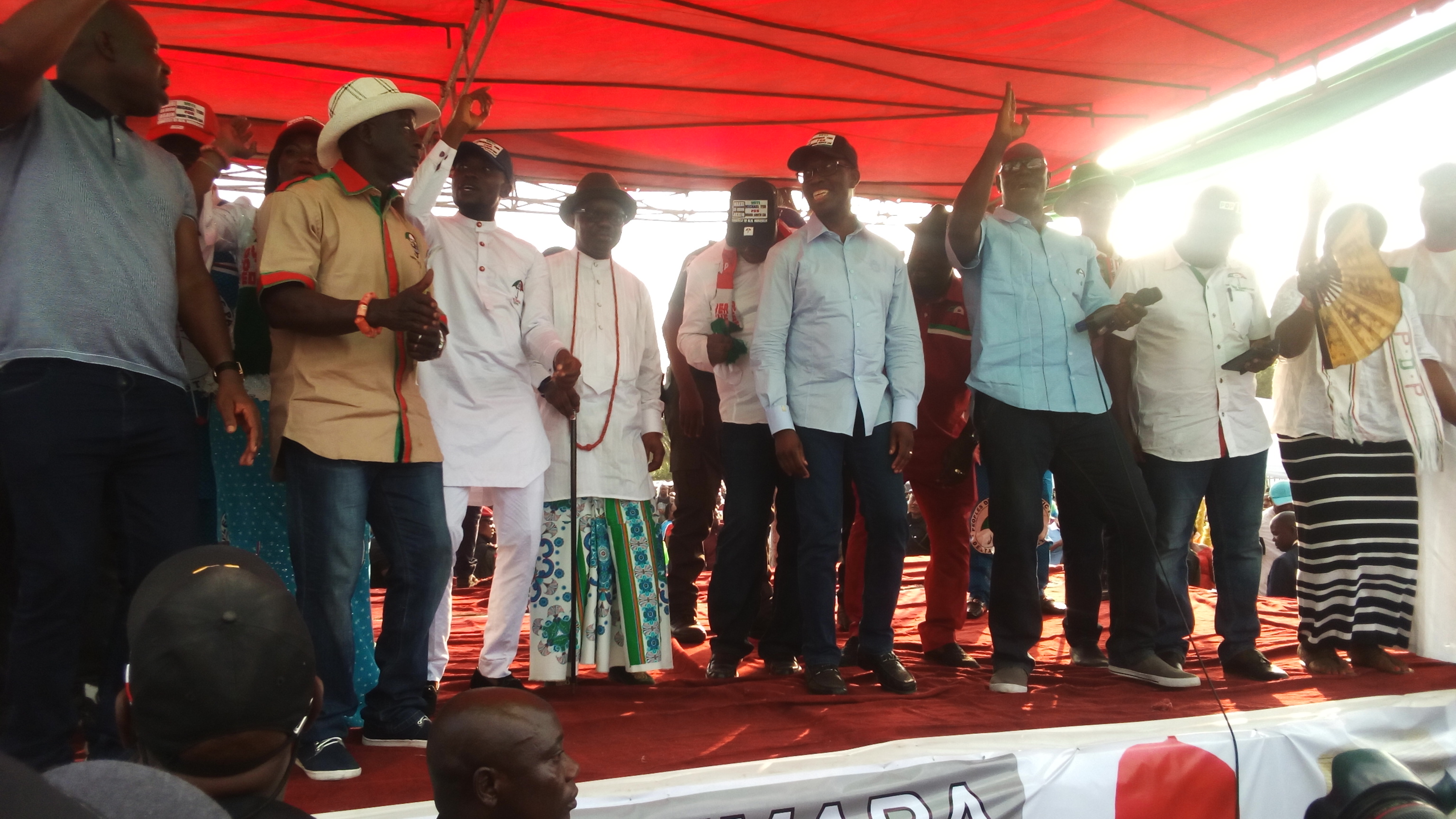 ..As Tidi unveils manifesto
By Francis Sadhere, Warri
As the January 6, 2018 Delta State Council election gathers momentum, the Delta State Governor, Senator Ifeanyi Okowa, immediate past Delta State Governor, Dr. Emmanuel Uduaghan and other PDP faithful on Tuesday gathered at the Atuwatse Primary in Warri South to drum support for the party's chairmanship candidate, Comrade Michael Tidi.
The rally which had prominent PDP faithful from all parts of the state in attendance was well attended by all the supporter of Comrade Tidi, who they have unanimously chosen as their candidate for the next council elections.
Prominent party members came out one after the other to speak in support of the young candidate, Tidi who they vowed to support in the next election with all their support.
Governor Okowa who spoke at the rally said the he is very convinced that the candidate chosen by the people was the right candidate for the party who is going to bring development and peace to the council area.
He said he was impressed by the manifesto of Comrade Tidi, noting that with the kind of manifesto the young candidate have come out with, he has no doubt that Tidi is going to win the election.
Specifically, he said he was impressed with the slogan of the young candidate, "Warri Go Boom Again" noting that he was forced to remove his own cap and put on the cap of the candidate which has the slogan written on it.
"I usually do not take of my cap but with this slogan that I am seeing in this cap, I was forced to remove my cap and put it on. I am very happy with this slogan, "Warri Go Boom Again" because we need peace in this area. With peace all the oil companies that have left us will come back to us again when they finally see that peace has returned to the land," Okowa said.
Immediate past governor of the state, Dr. Emmanuel Uduaghan also added his voice to support the candidacy of Comrade Tidi, describing him as a very vibrant young man who knows what he is doing.
Uduaghan said he believed that with the kind of manifesto Comrade Tidi has, he is going to win the council election without any stress, noting that Warri South has always being a PDP area.
At the rally, comrade Tidi unveiled his manifesto which he distributed to the crowd in small pamphlets.
Below is Excerpt of Tidi's manifesto:
"In constructing our manifesto, we have been minded to encompass needed, feasible and implementable programs designed to benefit all our constituents, irrespective of gender, tribe, religion or social status. Our government's PEACHES-Agenda is therefore mainly about realistically catering to the people's welfare especially in those areas in which our constituents require the greatest assistance.
"Thus, our administration shall focus on deepening inter/intra –communal relations in Warri by encouraging understanding and collaboration amongst all stakeholders so as to bring about peaceful co-existence amongst the ethnic nationalities in the LGA. Not only will the invaluable peace we have been able to build up in this city and environs since the ethnic crisis that ravaged our people in the past, we are unwaveringly committed to deepening that peace and restoring our locality to its past glory while firmly guiding it into a brighter future.
"In education, our affirmation is to ensure that our children are able to study under a conducive environment for the purpose of molding them into properly educated adults capable of not just surviving but actually thriving in an ever increasingly complex and intellectually demanding world. We are therefore committed to the renovation of our schools and the provision of learning aids to students, as well as instructional assistance and incentives to their teachers.
"We will endeavor to partner with National Youth Service Corps, (NYSC), for optimal deployment of the right sort of teaching talent to our schools. We additionally undertake to provide good uniforms, writing materials and exercise books to our children.
"Regarding the mass of our children who reside in the riverine communities, we recognise them as an important component of our constituents, for which reason we are dedicated to, in addition to the programs adumbrated above, providing them with life jackets as they commute to and from school.
"The fact that as a constituency, Warri South is an agriculturally active and indeed viable LGA is often overlooked in the misconception that it is entirely urbanized and therefore only characterized by industrial and commercial activities. We hold our farmers and fishermen in Warri South in the highest esteem and are therefore committed to partnering with the agricultural sector for the benefit of our long abandoned farmers, fishermen and women. Accordingly, agriculture will be given its pride of place in our administration.
"It is an intention of cardinal importance in our vision for Warri South to work assiduously to provide our people with a much cleaner and safer environment where drainages work well, roads are swept and lawns are mowed on a regular basis, than what we have at the moment. Thus for the overall good of all our constituents, it is our unshakable commitment to improve the health profile of Warri South. Our administration will, as such, endeavor to run functional public health centers (PHCs) where health services will be free, from card procurement to administration of treatment for all and sundry. It is our deeply held belief that health is wealth and that as a government with the best interests of the people at heart, emphasis must be laid on quality healthcare for our constituents.
"Our economic empowerment scheme is geared towards lifting as much of our people out of poverty while constructively engaging our ever burgeoning youth population in rewarding activities for their progress in life.  We are therefore minded to cater for the economic needs of all our constituents vide such mechanisms as direct employment, skills training/entrepreneurial development, Agric Support programs, as well as, microfinance loans to mention a few.
"With entertainment, movies, media and sports as ever increasingly lucrative fields of human endeavors, we are committed to availing ourselves of every opportunity to maximize the participation of our constituents in these activities.
"Because security is everyone's business, we are going to be partnering with major security organizations to make sure that all the vulnerable areas in our environment are taken care of so that our residents can sleep with their eyes closed, with business owners, the economically active and leisure seekers being able to conduct their activities within the compass of a safe and secure environment.
"Key infrastructures such as markets, which will definitely help in shoring up our internally generated revenue (IGR) will be developed and rehabilitated. We will equally do all within our purview to provide infrastructure to the hinterland to discourage rural-urban drift. More so, we will construct, as well as maintain feeder roads to connect the villages and towns to facilitate the transportation of farm outputs to the markets and towns while ensuring the speedy repair of township roads and infrastructure for the benefit of our urban constituents.
"These, in addition to other feasible and workable priorities will constitute our focus in delivering on the mandate we humbly but enthusiastically seek from all the good people of Warri South Local Government."