SPEAKER OBOREVWORI URGES DELTANS TO DESIST FROM BUILDING ON NATURAL WATERWAYS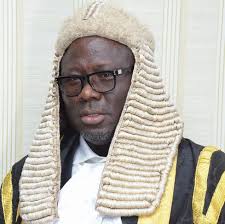 **** WANTS DELTANS TO PAY ATTENTION TO THEIR ENVIRONMENT
By Our Correspondent
THE Speaker of the Delta State House of Assembly, Rt Hon Sheriff Oborevwori, has called on Deltans to pay adequate attention to their environment, saying Climate Change was real and commended Governor Okowa for being proactive in addressing environmental issues in the State.
In his goodwill message at the formal launch  of Delta State Nigeria Erosion and Watershed Management Project ( NEWMAP) by Governor  Ifeanyi Okowa at the Unity Hall, Government House, Asaba, on Thursday, the Speaker implored Deltans to desist from building on natural waterways and stop blocking the drainage system.
"I must say that the launch of NEWMAP today is very timely. There is no better time than now to do this. The world is changing. We cannot run away from Climate Change, it has come to stay and we must rise up to the challenge", the Speaker said.
According to him,  the  recent Harvey Flood was an eye opener for all, saying Houston will  take a long time to recover from the  Harvey Hurricane.
He added that;"Reports across  Houston  indicated  that the disaster is the first of its kind in the City.  The flood swallowed mansions, Green Road Signs, Traffic lights, Stop signs,  Main roads and loops. Homes turned into River overnight. Speedboats and Helicopters were used to rescue people from their homes. The rest is history".
"Back home here in Nigeria, flood has brought untold hardship to Nigerians. The people of Benue State  are still counting their  losses and licking their wounds from the recent flood disaster in the  State. Tens of thousands of people were displaced by the Flood in Benue State. With all these things happening around us, we must begin to change our ways of doing things and pay adequate attention to our environment", the Speaker said.
He commended Governor Okowa  for being proactive in addressing environmental issues in the state,  saying that; "And  I believe that with a project like NEWMAP, if actualized, will take Delta State far.
"I want to appeal to Deltans to desist from building on  natural waterways and stop blocking our drainage system", he said.
The Speaker  lauded  the Ministry of Environment for putting the programme together and the good work they are doing to open all blocked drainages across the State.