PDP Delta Central Repositions for 2019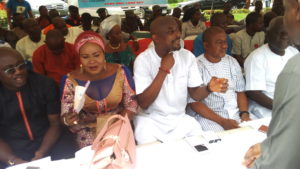 THE People's Democratic Party PDP, Delta Central is not leaving anything to chance as it has already started putting machineries in place to ensure that the party continues to rule the state beyond 2019.
A PDP political group under the aegis of Delta Mandate (Delta Central) made this position known on Monday when it played host to PDP members worldwide at the PTI Conference Centre Effurun, Uvwie Local Government Council Area during it's maiden outing
The National President of the group, Chief Isaac Aweifia who spoke at the occasion said the group has been on ground since 2013 with the sole aim of making Okowa the governor of the state.
He said with 2019 around the corner, the political group decided to come out for the first time to start mobilizing and working for the return of Governor Okowa in 2019.
The colourful ceremony which attracted the who is who in Delta politics was witnessed by prominent men and women in Delta State.
On his part, Prof Sam Oyevwaire in his goodwill message said that; "When the going was tough I did not know that this group was there for me. Time were really tough and we did not know who was there for us. We have been on this but we are up to the task. Governor Okowa knows more than all of us."
He thanked all the executives of the group for honouring him and called  on Delta Central to continue to support PDP.
Also speaking at the occasion, Chief Solomon Areyinka, Chairman of the Rural Development Agency RDA, said that the group  was formed in 2013 with a vision to act as a catalyst group to PDP.
He said, "Now most members are now commissioners and high government office holders. We drew this vision with Governor Okowa which  led to his victory. Some members   have left this group because they have soiled their hands. We are going to drive this vision beyond 2019.
Former PDP leader and Special Adviser to Governor Okowa, Chief Edwin Uzor commended the coordinators from various local government areas of the state, noting that the group is a firm group that does not weaver and stands for the truth.
"You cannot win elections without this group in Delta state. Self supervision is the best form of appraisal. I urge all of us to go back home and work for the party. We believe in Consultation. We must do it together and must not take laws into our hands. The end of any election is the beginning of another election. Campaign has started. We will leave to another senatorial District. Join hands with us to move this group forward," he added.
Chief Mike Adiotomre on his part noted Delta Central has never been in opposition, assuring that Delta Central will deliver Okowa again.
He said, "With the performance of Governor Okowa so far we know we belong to a progressive party. We shall stand with  Governor Okowa come 2019. He  is the father of our government. All the Leaders and Elders are have given their  support to Governor Okowa. Our ambitious is to make sure the party takes over national government. While we are working to make sure Governor Okowa wins in 2019, we should work to make sure PDP wins at the Federal level.