Omo-Agege urges support for Buhari
By Francis Sadhere
THE senator representing Delta Central senatorial district, Senator Ovie Omo-Agege, has urged Nigerians to continue to have faith and show support for the President Muhammadu Buhari-led administration in its effort to end insurgency, corruption and block leakages, which have hitherto drawn the country backward.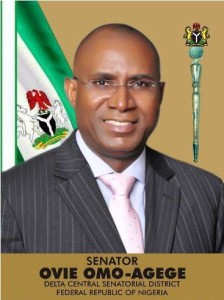 Omo-Agege Omo-Agege, in a statement, stressed the need for Nigerians to draw strength from the lessons of Easter which, according to him, "signifies love and sacrifice," adding: "If we make the necessary sacrifices and do the right things, the same power that brought Jesus Christ from the grave, will roll away the stone blocking the door of Nigeria's progress."
Urging government at all levels to tackle social, economic and political challenges confronting the nation, he enjoined Nigerians to pray to God to deliver the nation from the grave of hopelessness to the shores of joy and resurrection.
He said, "Boko Haram has been degraded and rendered incapable of waging sustained attacks, unprecedented levels of investigations and trials of corrupt government officials are ongoing and the economy has been stabilised.
"Now that a budget of change in which for the first time, about 30 percent of government spending is appropriated for capital expenditure and provisions have been made to help the poorest and most vulnerable in our society as transfer payments, has just been passed by the National Assembly, we have a chance to build a better future for ourselves and our children," he said.