Niger Delta Leaders Demand Fiscal Federalism, Relocation Of IOCs, Others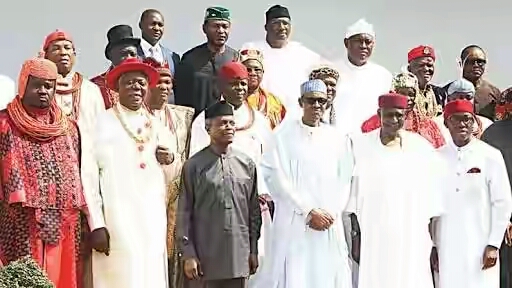 Leaders of the Niger Delta who met with President Muhammadu Buhari on Tuesday have made a 16-point demands.
The meeting which was held at the Presidential Villa in Abuja commenced at 12:10pm.
Among those who attended the meeting from the Niger Delta were Obong Victor Attah, Timi Alaibe, Diette Spiff, Ledun Mitee, Florence Ita-Giwa, Tony Uranta, Nkoyo Toyo, Senator Ewa Henshaw, Seminatri Bozimo and Roland Owei.
According to the Niger Delta leaders, the 16 points "quick wins can be achieved and can restore hope and confidence in a region that has grown skeptical of dialogue and engagements that have hardly produced tangible results".
The demands are:
1. Fiscal federalism.
2. Relocation of Administrative and Operational Headquarters of IOCs.
3. Law and Justice issues: In view of the security situation in the Niger Delta, a number of pending law and justice issues regarding some aggrieved groups and individuals are yet to be resolved. It is important to address these issues urgently as a step towards lasting peace.
4. The effect of increased military presence in the Niger Delta.
5. Plight of internally displaced persons.
6. Ogoni clean-up and environmental remediation.
7.The Maritime University Issue.
8. Key regional critical infrastructure.
9. Security surveillance and protection of oil and gas infrastructure.
10. Power supply.
11. Economic development and empowerment.
12. Inclusive participation in oil industry and ownership of oil blocs.
13. Restructuring and funding of the NDDC.
14. Restructuring the Niger Delta Ministry.
15. The Bakassi Question.
16. The Presidential Amnesty Programme.