N.3billion Fraud: Osun College officials to appear in EFCC Today
By Our Correspondent
The authority of the anti-graft body, the Economic and Financial Crimes Commission(EFCC) has invited the members of the top management of the Osun State College of Education (OSSCE), Ila-Orangun over alleged illegal diversion of over N.3billion public funds approved for the construction of Amphitheatre (Lecture Theatre) and other valuable projects in institution.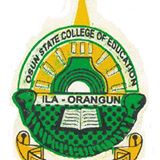 It would be recalled that an Osun State based Civil Society Organization (CSO), the Civil Societies Coalition for the Emancipation of Osun State (CSCEOS) led by its Chairman, Comrade Adeniyi, Alimi Sulaiman had earlier appeared before the agency to endorse its Petition Letter dated Monday 21st March, 2016 which was forwarded to the Acting Executive Chairman of the EFCC, Mr. Ibrahim Magun over the subject matter.
Those invited were; the Chairman of the College Governing Council and younger brother to Chief Bisi Akande ,the former Interim National Chairman of All Progressives Congress(APC),Mr. Oyeniyi Akande, College Provost, Professor  Isaac Oyewole, Registrar, Mr. Aderiola Adeoti, former Bursar(now College of Education, Ilesa), Mr. Akin Latilo, College former Acting Provost, Dr. Basiru Gbadamosi and the member of the Governing Council, Mr. David Olayinka Olojede.
Other involved in the alleged diversion of Project funds were; Mr. Oyegbade Reuben Abayo, Mr. Amobi Yinusa Akinlola, Mr. Ayoola Peter Olajiola, Mr. Moses Oyewole Otitoola, Mr. Kujeunbola Oluwafemi, Dr. Omotosho Adeleke and Dr. Adeleke Sulaiman Ajala.
The source closed to the College informed that the College Governing Council Chairman, Provost and Registrar respectively held marathon meeting last Friday for almost five hours at Ogunlade Guest House of the institution ahead of todays appearance at the Ibadan Zonal office of the EFCC, where they concluded to shift the blame game of the issue on Dr. Gbadamosi and Mr. Akin Latilo respectively.
Another source from the College alleged that its former Acting  Provost, Dr. Busari Gbadamosi has recently returned the sum of N10million out of the project funds in question to the College management, adding that Dr. Gbadamosi had concluded plan to reveal the truth of the whole matter and other related issues before the anti-graft body so as to help the agency on its investigation to unravel the whole saga.
This was contained in a statement issued by the CSCEOS's Directorate of Media and Strategy, which was made available to newsmen yesterday,  Comrade Sulaiman disclosed that out of the sum of One hundred and seven Million naira (N107m) first payment released to the Sky Bank, Ring Road Ibadan branch Account Number:1771403093 of the Digitpro Engineering Technology Ltd, Ibadan, being the part of mobilization fees for the construction of a Lecture Theatre (Amphittheatre), sum of N41,093,694.36 on March 4th, 2014 were diverted to the Fidelity Bank Plc Account Number:5600078243 with Cheque Number:00000005 of De Capstone Ltd where Mr. Akande had vested interest.
According to CSCEOS: " As third eye of the people, it is our responsibility and right to expose every yoke of corruption in our society as stipulated in the Sections 15 sub-section(5) and 24 sub-sections (1e) of  the amended 1999 constitution of the Federal Republic of Nigeria.  According to the Biblical statement that "Seek and Ye shall find, ask and it shall be given onto ye" and "for there is nothing hidden that shall not be revealed". We all know that it is an abominable for a leader to betray the trust of her people which is against the teaching of Prophet Muhammed (May the Peace of Allah be upon him)."
While appreciating the efforts of the anti-graft body to free our society from shackle of corrupt practices and assurance that the EFCC would do justice to the group's petition without fear or favour, Sulaima advised the Osun State government under the watch of Mr. Rauf Aregbesola to purge Mr. Akande and his co-travelers that were currently facing the trial over an alleged N.3billion fraud out of the institution before they destroyed the citadel of learning, adding that "Law is no respecter of anybody."