GROUP APPEALS TO DELTANS TO SUPPORT OKOWA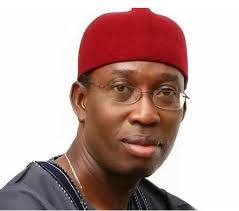 By Our Correspondent
A Political Pressure Group, The Okowa Mandate Group has appealed to politicians and Deltans generally  to support the Governor Ifeanyi Okowa led administration to continue to deliver electoral promises to the people of the State.
The group, comprising professionals and political activists  was  one of the political pressure groups in Delta State that appealed to the conscience of Deltans in 2014 to elect Dr Senator Ifeanyi Arthur Okowa as Governor of the State .
In a press release, the Director of Mobilization, Okowa Mandate Group,  Chief Combolous  Ikisa, gave the Governor a pat on the back for his numerous achievements in the State in the last two years and implored Deltans to continue to support the Governor.
According to the group; "We make bold to state that, in  the past two years, the Governor has been piloting the affairs of the state to the admiration of Deltans despite the poor economic situation in the country occasioned by the fall of crude oil price which is the main source of revenue. The Governor  has truly delivered dividends of democracy to the electorate. His  appointment of Deltans  into political offices in the State adequately cut across all the three Senatorial Districts".
The group added  that;"Dr Okowa has empowered and employed over 40,000 persons within two years of the administration. Projects initiated by the administration cut across the basic needs of mankind such in housing and in health care delivery. Out of the numerous road projects initiated by the administration, 50 of such roads have been commissioned. Massive road projects are also initiated in the riverine areas like never before, and such works are progressing".
"As a multi-ethnic state, the Governor  has continued to build bridges of unity across the state. Conflicts resolution is one of the key programmes of the administration. We wish to use this medium to urge traditional and opinion leaders to effectively key into this agenda of the governor to bring peace to warring communities as there cannot be development in an atmosphere of rancour", the group said.
"We therefore, we wish to appeal to politicians and Deltans in general to support the Dr Okowa led administration to continue to deliver the electoral promises the administration made during the campaigns. It is our believe that Dr Okowa will do better than how he met the state mostly when he is given his constitutional two term of eights as it was applicable to Delta Central and Delta South Senatorial Districts in the past. We should all remember that the unity of the state lies on equity and inclusiveness", the group also said.