CODAF HARPES ON NEED TO END GAS FLARING IN NIGERIA
By Ovedhe Jerry
The Executive Director of a Non-Governmental Organization, NGO, under the aegis of Community Development Advocacy Foundation, CODAF, Mr. Richard Benin, has recently called for end of gas flare in the Niger Delta region.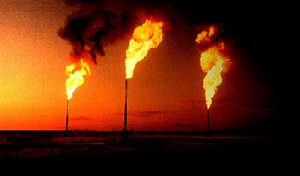 Mr. Benin gave this assertion after a workshop at Uzere community, Isoko South Local Government Area of Delta State.
Benin posited that the federal government was playing games with the process of ending gas flaring in the Niger Delta region.
His words: "The first attempt at forcing the oil companies operating in the Niger Delta to end gas flare was in 1969 when the administration of Gen. Yakubu Gowon ordered them to put in place, facilities that that will utilize associated gases within five years of their commencement of operations.
"Five years after, the oil companies still had nothing on ground for gas gathering; that goal post was then shifted to 1979 by the same administration. Though, an associated Gas-Re-injection Act of 1979 was enacted to show commitment to ending gas flare, No. 99 of the Act was introduced with the demand that oil companies operating in Nigeria should produce detailed plans for gas utilization as well as a guaranteed zero flares.
"The inability of the oil companies to meet the new date (1979), necessitated the fixing of 1984 as the zero flare date. This time, there was a fine to be paid by defaulters; the goal post on ending gas flares shifted from 1984 to December 17, 2007.
"Because of the local and international communities, the federal government again pledged to halt gas flare in Nigeria and set January 1, 2008 as zero date. I am very sad to inform you that the current administration just signed a pact with the World Bank and pledged to put off gas flare by 2030", he said.
The CODAF Boss however stressed the need for the environment in the affected communities, particularly Uzere to be remediated and the community needs to be compensated for their crops that have been destroyed. The communities also need to know how many barrels of oil being gotten from their land daily.