95 indigent students benefit from 5th annual MSDF summer camp
By Our Correspondent
In a bid to help students spend their long vacation meaningfully by  engaging in extracurricular activities in a conducive and non class room environment, the Morgan Smart Development Foundation (MSDF), a non- governmental organization has recently ended a five day summer camp with the theme 'education is the key to self actualization'.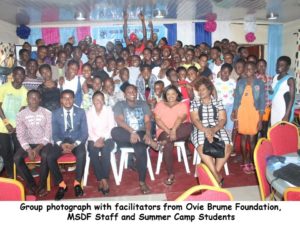 The annual program which was held at the Morgan Smart Women and Youths Empowerment Resource Centre had in attendance 95 students amongst the 101 under the foundation's scholarship scheme from selected schools in Warri Delta State.
In her address, DR. Evelyn Omawumi Urhobo , the Chief Executive Officer of the foundation stated that the annual summer camp is meant to expand the horizon of the students by exposing them to additional educational and social information such as career guidance and counseling, mentoring and role model, lectures on ethics and values, negative practices and their damaging effects etc that will help to build their confidence to enable them excel under any circumstances that they might find themselves in life.
"The students are exposed to skill acquisition like basic make up and barbing, photography/video, bead making, tying of head gear, hall/table decoration etc that will give them opportunity to earn some income. They are also mentored positively in all areas of social behavior and civic responsibilities for their character formation process.
"The dream is to catch them young and start inculcating the right values into them as we have lost a lot of values in Nigeria today," she ended.
She charged principals to take one or two weeks every year during the long vacation to organize summer camp for their students so as to have one on one relationship with them. She also lamented that parents are not helping enough by allowing their children to just hang at home watching Television and playing video games during the long holidays.
She encouraged the parents to do more, be innovative and think of how to get the children engaged aside the Television and video games.
She also admonished students to take their education seriously and set goals if they must become something tomorrow.
Earlier in her address, educational consultant to MSDF, Mrs. Evelyn Ureumu Ideh stated that with the advent of Google, malpractices and get rich quick syndrome students no longer read hence the summer camp initiative to promote reading culture.
She however advocated that summer camp should be introduced be introduced from nursery school to ensure that students are taught early about self actualization and self worth.
On his part, Mr. Roland Adebanjo O, Area Commander NDLEA Warri while giving a lecture on 'drug abuse usage by youths and its negative effects on them and society' stated that he believed in catching them young.
He if students are equipped with the knowledge beforehand they will know the difference between what is good and what is bad, they will not associate with drugs and other crimes.
High point of this year's summer camp was the excursion to PIND office in Egbokodo and DBS in Warri. The 2016 summer camp program also included a 5 day special trip to Lagos for the best 10students (6girls/4boys) of the academic session. This is to reward them for their outstanding performances in their academics and also encourage the other students to work harder so as to benefit from such special rewards in the future.