Pro-Biafra activists announce peaceful rally
The Indigenous People of Biafra (IPOB) asked all its supporters to join the group on May 30 as it launches a peaceful rally in remembrance of fallen heroes and heroines who died during the civil war of 1967 to 1970, Daily Post reports.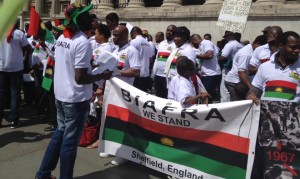 Emma Powerful, the IPOB spokesperson, in a statement unveiled on May 29, said the peaceful remembrance march will also be used to demand the release of their leader Nnandi Kanu, who is currently in DSS custody.
The statement reads in part: "IPOB family meetings worldwide invites all electronic and print media companies and international media houses to come and witness our May 30 Remembrance day an event initiated by our leader Mazi Nnamdi Kanu and religiously observed since 2014 at the multi-million cenotaph that was destroyed by misguided criminal elements claiming to be working for actualization of Biafra when in actual sense he was working against Biafra, before he was removed by his former followers.
"We are also calling on all the clans in Biafra, be you Izon (ljaw), Isoko, Ishekiri, Efik, Ibibio, Idoma, Isobo, Igede, Igala, Igboakiri (Igbanke), Igbos and others to come out and be part of the peaceful events marking this occasion. People will gather at IPOB organized events all over the world to show their respect, but all those in Biafra land should attend the gathering in Anambra state."
"We are, therefore, calling on the Governor of Anambra state and Chief security officer of the state, Chief Willie Obiano, commissioner of police, army commander and navy commander to call their men and security agents who were parading around the state to order, because we are a non-violent organization that is bent on the restoration of Biafra and nobody born of a woman can stop us, because this is the project of Chukwuokike Abiama, God Almighty."
Lieutenant Colonel Odumegwu Ojukwu and other non-Igbo representatives of the area on May, 1967, established the Republic of Biafra, comprising several states of Nigeria following the doubts that Nigeria's oppressive military government would allow them to develop, or even survive.
Later the civil war started that cost Nigerians millions of lives.